New business spotlight: Priority Ambulance
July 11, 2016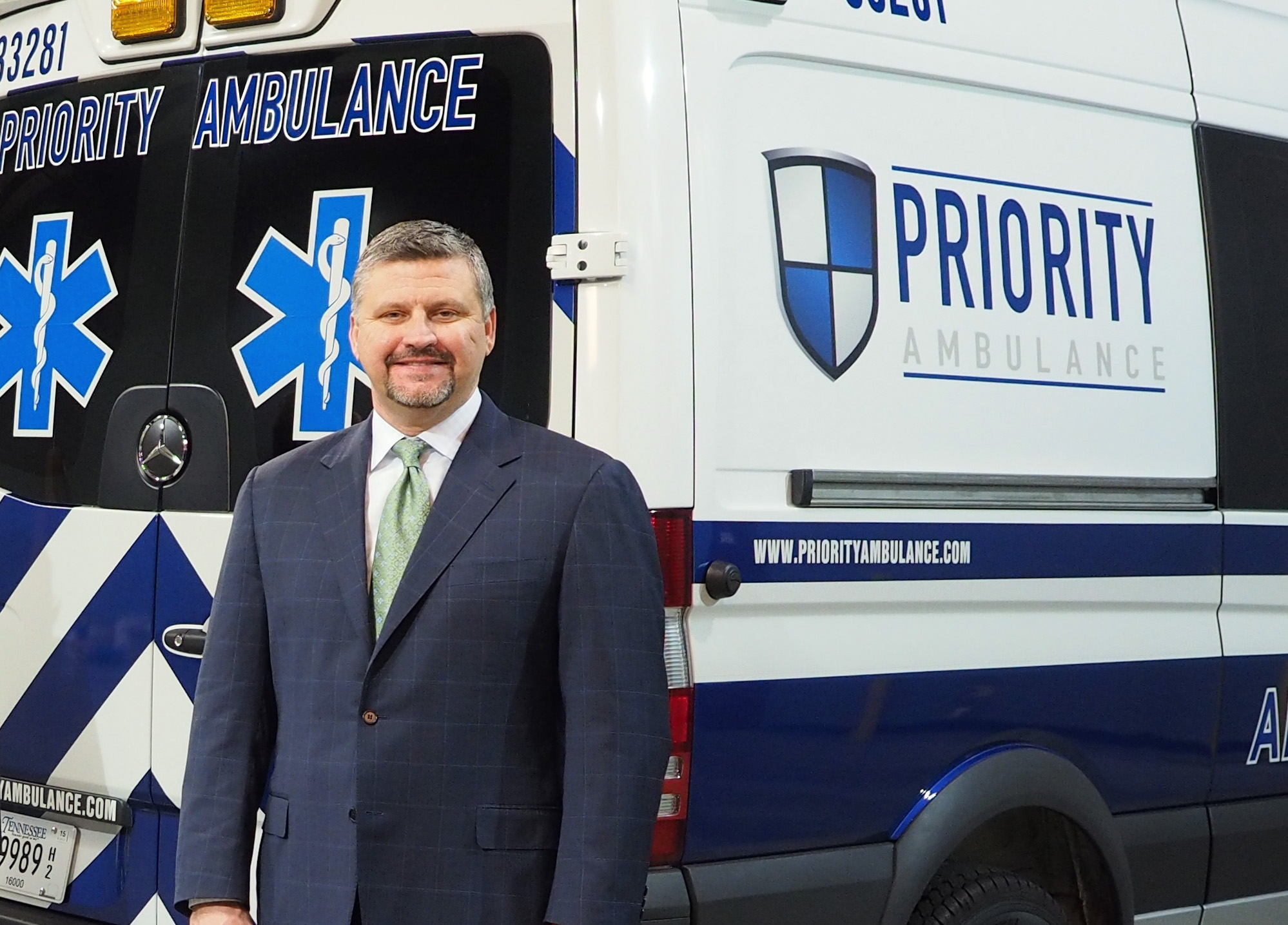 This article originally appeared in the Greater Knoxville Business Journal in July 2016.
New Business Spotlight focuses on local businesses that have existed for one to five years. This month's spotlight is on Priority Ambulance. CEO Bryan Gibson introduces his company in Q&A form.
Q: What is Priority Ambulance and what was the genesis of the company?
A: Priority Ambulance is the only national ambulance company headquartered in East Tennessee. We announced the company in February 2014 with the goal to raise the standard of emergency medical care in this area and across the country.
Our company motto is "Our Community. Our Priority." Individuals are drawn to the emergency medical services field because they want to help people and make a difference. Priority Ambulance allows our local operations and their employees the independence and resources to best serve their community. After establishing a solid foundation and clear company mission, Priority Ambulance undertook a proactive expansion strategy to seek and acquire medical transport services in new markets with an emphasis on companies that already shared our corporate vision for community support and excellent patient care.
In 2012, I founded a company in Florence, Ala., called Shoals Ambulance, which provided emergency service to Lauderdale County. When we founded the national company in Tennessee in 2014, Shoals Ambulance joined the network. We started our East Tennessee operations from scratch. To accomplish this, we invested in state-of-the-art Mercedes-Benz Sprinter ambulances and technology and hired the most experienced managers in the area, including Rob Webb and Dennis Rowe, who both have more than 35 years of experience managing East Tennessee EMS operations. Priority Ambulance currently holds the emergency ambulance contract for Lenoir City, City of Loudon and Loudon County and provides nonemergency medical service to Knox and Blount counties.
From the beginning, our intent was to grow quickly and strategically. Within the first year, we purchased two family-owned companies in New York, Trans Am Ambulance Services and Kunkel Ambulance, and Seals Ambulance in Central Indiana. In 2015, we added Central EMS in Georgia. We currently have more than 1,200 employees and more than 250 emergency vehicles, including two medical aircrafts.
Q: What were some of your biggest challenges in starting a new company?
A: Within the first year of the business we had tremendous growth. Bringing together five different local operations through startup and acquisitions into the national network of resources was a challenge. Fortunately, I had assembled a talented leadership team with decades of experience in managing national ambulance services. The team was able to quickly build a national framework and programs for our patient data management software, human resources, quality assurance and improvement programs, fleet maintenance and more. With each acquisition, we used these programs to standardize processes and conduct training with staff members. We also continued to focus on the expansion strategy by researching and talking with new companies interested in joining our network of companies.
Q: In a short period of time, Priority Ambulance quickly expanded into other states. What has made Priority Ambulance so successful?
A: Over a 20-year career in the emergency medical services industry as the chief operating officer of one of the largest national ambulance companies and as the founder and owner of several regional emergency medical services companies, I have observed that success is determined at a local level no matter the size of the company. Providing emergency medical service is more than just a business; there is a public mandate to protect community health and safety. The best way to do that is to be invested and integrated in the community through relationships with local governments and hospitals and by supporting community events and causes that improve the quality of life for the residents.
As we expanded, we targeted companies that had a long tradition in their community, strong brand recognition and a track record of investment in their area. These companies had a connection and rapport within the community, and we would have lost decades of community trust and equity by changing their names and identities. Instead, we capitalized on those established relationships by keeping the original name and the trusted leadership team intact. We provided financial support and national resources to allow them to grow, flourish and do what they do best — serve their friends, family and neighbors with excellent ambulance service.
Q: What do you see as the future of Priority Ambulance?
A: Priority Ambulance has financial backing and support from a private equity fund that specializes in health care investments, Enhanced Equity Fund. We are actively seeking expansion opportunities through acquisition and startup operations in communities across the country.
We are in talks with several additional ambulance companies interested in joining our network, and we expect to make an announcement soon. As we continue to bring companies on board, we will support them with the freedom and resources to serve their communities.
Based on current projections, we anticipate to grow significantly by the end of the year. In total, we will provide ambulance service to communities in more than 11 states. We project our revenue to top $100 million and will grow our national workforce to more than 1,500 employees. Through expansions and acquisitions in 2016, we anticipate that our fleet will grow to more than 350 emergency vehicles, and we will transport approximately 215,000 patients annually throughout our national service area.
Additionally, Priority Ambulance will continue to expand its service offerings. In addition to ambulance services, we provide third-party billing management services to private and municipal ambulance, fire and medical services. We also offer mobile integrated health care services to medical facilities and hospitals seeking to better proactively manage patient treatment and recovery. In the coming year, we plan to continue to market our full range of services across the country.
Last word
East Tennessee is a supportive community to grow a business and a great place for our employees to live, work and raise a family. We recently expanded into new corporate headquarters in West Knox County, and we look forward to centralizing more of our corporate team in East Tennessee. I am incredibly proud of the company that we have created in a little more than two years. We built our company on a strong foundation of talented, experienced EMS professionals at the corporate and regional leadership level, a team that I am honored to be a part of every day. As we continue to grow, we will not lose focus on our mission of providing individualized customer service and the best clinical patient care to every community we serve.