Tranzonic Companies donates N95 masks to Priority Ambulance
March 24, 2020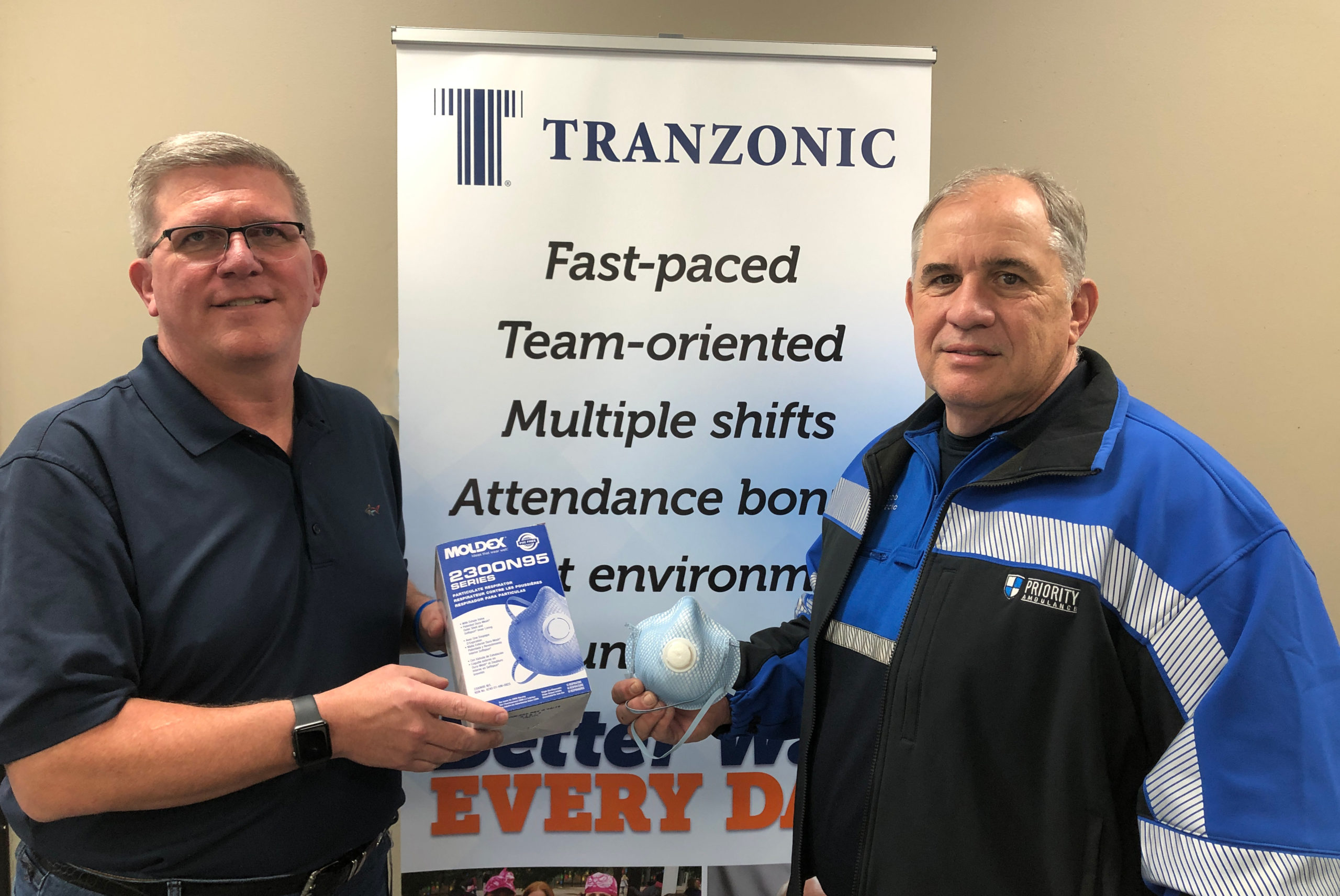 Tranzonic Companies donated a supply of N95 masks to EMTs and paramedics at Priority Ambulance who are on the front lines treating patients. The N95 masks are part of the personal protective equipment (PPE) recommended by the Centers for Disease Control and Prevention (CDC) during transport of patients with potential infectious disease, such as COVID-19.
"Our team is working around the clock to distribute these masks and other personal protective equipment to protect the safety of people across the country that are on the front lines of this health crisis," said Brian Rhoades, executive vice president of operations for Tranzonic. "Making this donation right here at home ensures the continued protection of health care workers and patients."
On March 18, new legislation cleared manufacturers of N95 masks for commercial purposes to be able to donate or sell the masks to EMS agencies and hospitals for medical purposes. The COVID-19 outbreak has placed unprecedented strain on the supply chain of medical supplies and equipment. The White House has encouraged companies that either distribute or use the commercial N95 masks to donate supplies to local health care providers during the COVID-19 outbreak.
Tranzonic is a manufacturer and distributor of personal protective equipment and cleaning products for companies across the country, including sanitizer wipes, hand sanitizer, foggers, wipers, N95 masks, gloves, Tyvek suits, toilet paper and paper towels. The Knoxville location is the largest manufacturing and distribution facility for The Tranzonic Companies. Since the beginning of March, the company has seen a 30 percent increase in demand for these products, spurred in large part due to increased demand from the health care industry.
"We are proud to be a part of a business community in East Tennessee that supports their local health care workers," said Rob Webb, vice president of Tennessee operations for Priority Ambulance. "As our response to this outbreak continues, we are grateful to local businesses like Tranzonic that are willing to provide us with additional resources to be prepared and arm our EMTs and paramedics on the front lines to safely meet the challenge."
Priority Ambulance will use the masks for its ambulance crews in Knox, Loudon and Blount counties in East Tennessee, as well as in operations throughout the Southeast.
Industries that have N95 masks now cleared for medical use include construction, manufacturing, auto shops, painters, nail salons and cleaning companies.