Priority Ambulance provides lifesaving technology for cardiac arrest to Loudon County first responders, frontline ambulances
December 9, 2020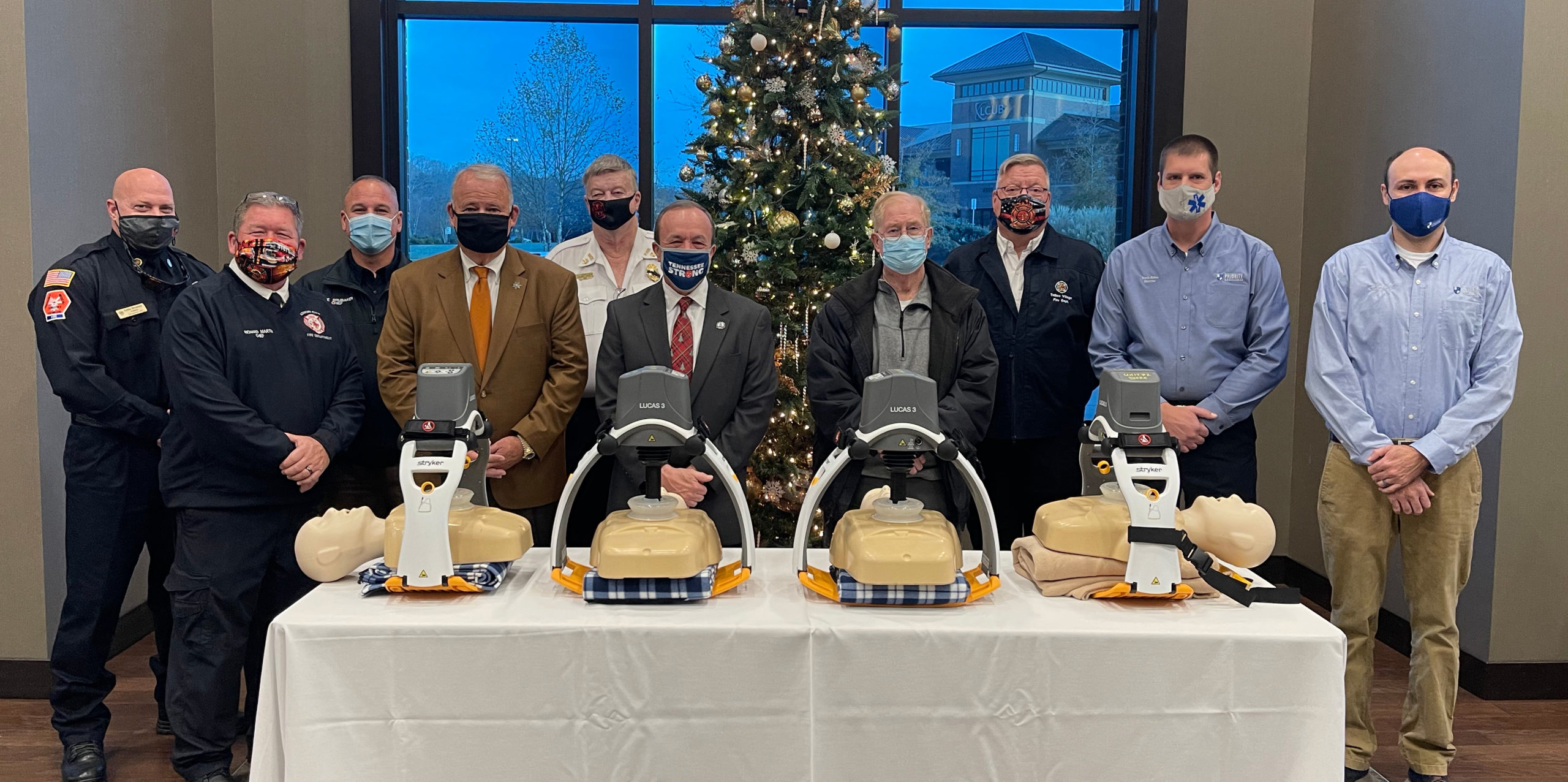 Priority Ambulance delivered lifesaving automated chest compression devices to each of the fire departments providing first response in Loudon County during a presentation Dec. 9 at The Venue at Lenoir City.
The LUCAS 3 devices will be placed on fire department units for each of the first response areas in the county, as well as an additional four devices on Priority Ambulance's frontline ambulances.
Lenoir City Mayor Tony Aikens, City of Loudon Mayor Jeff Harris and Loudon County Commission Chairman Henry Cullen joined the fire chiefs of Lenoir City Fire Department, City of Loudon Fire Department, Greenback Volunteer Fire Department and Tellico Village Volunteer Fire Department to view a demo and accept the LUCAS devices for their communities.
"We truly appreciate the relationships that we have with our first responders," Priority Ambulance Vice President of Operations Rob Webb said. "The interaction between our agencies that go out of the way to help each other is what makes this system work. Our Lucas devices are going to be placed in every one of our first responder agencies in the county, and we'll have them on all of our on-duty ambulances. This is a major investment in emergency medical services that we truly believe will assist all of our partners in saving lives."
The automated chest compression devices represent a significant equipment upgrade in the Loudon County EMS system. The LUCAS device optimizes the pressure and speed of chest compression while freeing the hands of the EMT and paramedic for other medical care or moving the patient even in tight, constrained spaces. Consistent, uninterrupted chest compressions are proven to improve patient outcomes in patients experiencing cardiac arrest.
The system also eliminates the risk of human error and fatigue in compressions – a particularly important factor in rural communities like Loudon County where patients often must travel a longer distance to the nearest hospital.
"This device doesn't get tired like people do," Priority Ambulance Loudon County EMS Director Travis Estes said. "The LUCAS device will uninterruptedly and consistently move oxygen and medications through the blood as we lift and move the patient. This also will remove the necessity of an ambulance crew member or first responder having to stand up in the back of the ambulance to administer compressions. Crews can now render care from a seated and belted position, which will significantly improve safety."
Priority Ambulance is providing a total of eight LUCAS 3 devices to the community, including the four for the first responders as they often are first on the scene to initiate care and an additional four on Priority's frontline 911 ambulances. The upgrade represents a more than $120,000 investment in specialized equipment for the county's EMS system.
"As chairman of the commission, I want to tell you have much as a county we appreciate Priority Ambulance," Cullen said. "The investment you have made in the county fire departments is greatly appreciated. It will sure beat bouncing around in the back of the ambulance trying to do CPR in progress."
"Bringing lifesaving equipment to the folks at Loudon County is very much appreciated," Aikens said. "I can't say enough about Priority Ambulance and their community involvement. They've promised they would do it, they have done it and they'll continue to do that."
"I think the job that Priority does here has been shown especially during the COVID situation," Harris said. "Getting the right care to the patients is needed. I can speak for the City of Loudon that we are very thankful to have Priority here."
Priority Ambulance provides nonemergency medical transportation serving medical facility partners in Knox and Blount counties and is the 9-1-1 ambulance partner to Loudon County. Priority Ambulance has served East Tennessee since 2014 and is the only national ambulance company headquartered in Tennessee.